"DIA membiarkan dua lautan mengalir yang kemudiannya kedua-duanya bertemu. Antara kedua-duanya ada batas/sempadan yang tidak dilampaui antara satu sama lain. - Surah Al Rahman ayat 19-20. [ Allahu Akbar ]
The videos shown the Mediterranean and Atlantic Sea meets and there's a barrier between them. They have a different temperature, salinity and density. Mediterranean Sea is more warm, saline and less in density compared to Atlantic Ocean water.
When Mediterranean sea water enters the Atlantic over the Gibraltar sill, it moves several hundred kilometers into the Atlantic at a depth of about 1000 meters with its own warm, saline, and less dense characteristics. The Mediterranean water stabilizes at this depth.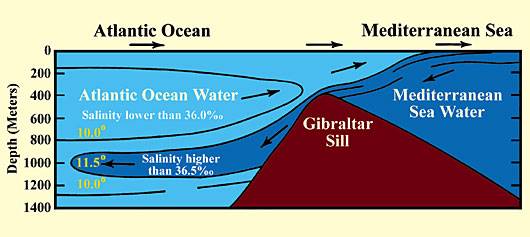 Although there are large waves, strong currents, and tides in these seas, they do not mix or transgress this barrier.